Responsible lending
We believe that a lender should not use intrusive marketing, offering consumers something they don't need or can't afford.
We believe that a lender should not mislead the customer by using fine print and other tricks. Using a customer-oriented approach, we don't just provide processing of user's requests through tech support.
We are willing to look into each individual case, providing the opportunity to contact our own financial ombudsman service. It allows clients not only to get an expert analysis of their problem, but also to improve their level of financial literacy. The effectiveness of this approach reflects Tamga's high level of customer loyalty. According to recent studies, the NPS rate among them exceeds 80%. That is, four out of five users of the company are ready to recommend it to their friends and acquaintances.
Responsible lending is a systematic principle followed by all financial companies. The idea is that before granting a loan, the lender understands the financial status of the applicant.
It would be extremely irresponsible to issue a loan without checking the financial habits or ability to pay, so companies have instituted processes for assessing customer's financial capabilities.
After filling out the questionnaire, the customer must provide additional information, such as:
● Bank statement - to understand financial habits
● Access to personal information in the credit register - to check debts or credit obligations
● A check for excessive alcohol consumption, criminal record, gambling or other addictions.
The lender, in turn, agrees to:
● Explain the risks of the credit decision
● Clearly explain the terms of the loan and its repayment
● Not grant loans to people with questionable capacity to pay
Responsible lending for consumers
Responsible lending is not only about financial companies, but also about customers themselves. The principle of responsible lending encourages everyone to take financial obligations and their possible consequences seriously - it is everyone's personal responsibility.
These are the key points about responsible lending that you need to pay attention to:
● Don't take out a loan when you don't need it
● Don't take out a loan for things that are not of prime importance
● Don't take out a loan in the amount of more than you need (in excess)
● Reasonably calculate your financial capabilities
● Plan expenses for financial obligations
● Do not create inconvenience for yourself with extra financial obligations
● Take into account your ability to pay
● Be aware of the consequences of not repaying the loan - you will face monetary penalties, a note in the credit register is possible and you can be sued.
The Principle of Responsible Lending
The principle is designed to protect both the consumer and the lender. Borrow responsibly.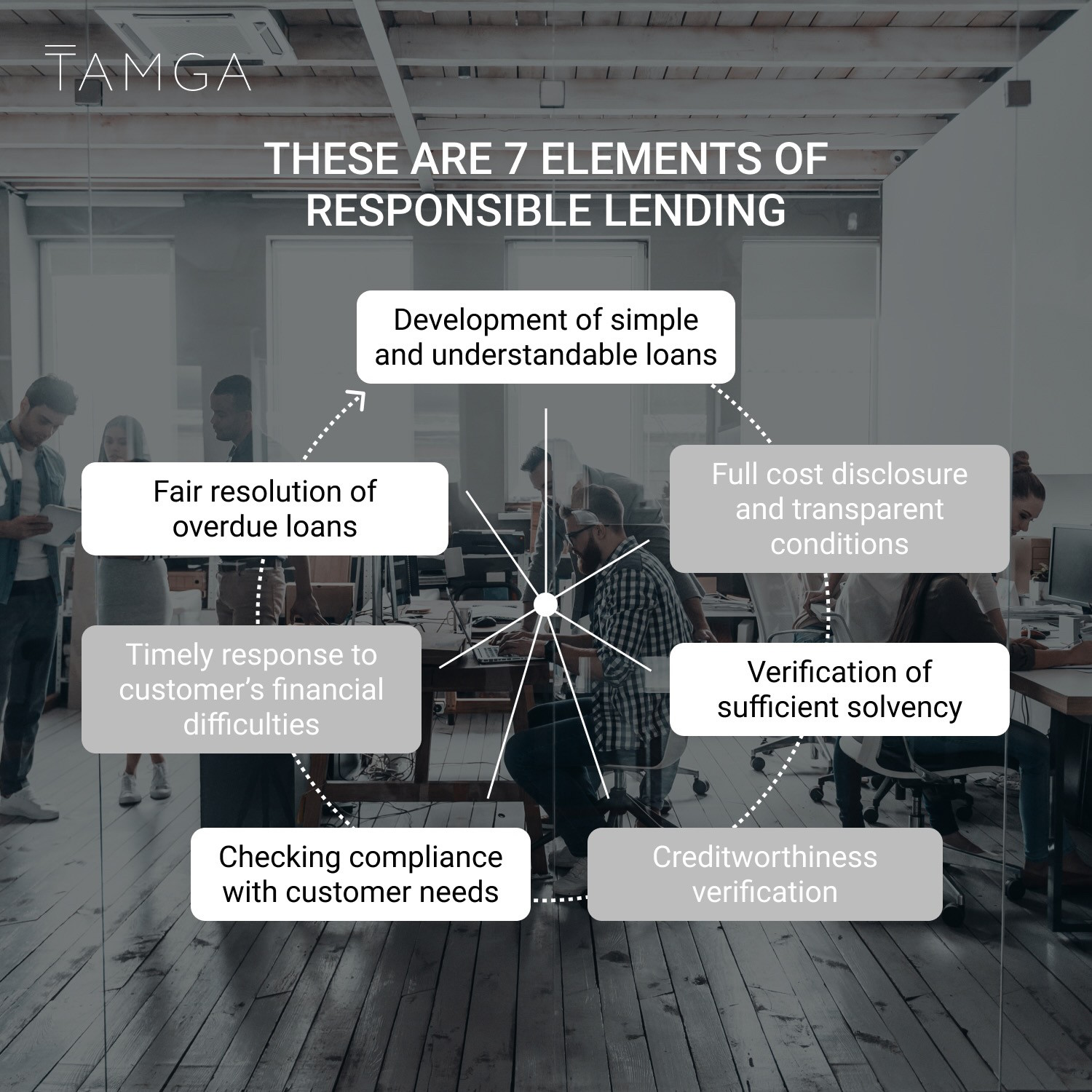 Financial Literacy
We improve financial literacy through products and user experience. Our products and user experience help to increase financial literacy. This process is a guarantee of sustainable financial development of the society and improvement of the quality of life. In addition, TAMGA implements a number of projects aimed at encouraging people to take responsibility for their own money.