"Banking is necessary. Banks are not" – Bill Gates
The digital economy is the main worldwide trend. Right now, we are witnessing a real technological revolution and the start of the Fourth Industrial Revolution. Companies from the segment of financial technologies make traditional banks obsolete and unnecessary. Startups are rather new in the world of fintech — they started to launch in large numbers in 2008. After only 10 years, the annual investment in fintech reached 40 billion dollars. And that is just the beginning.
Why banks are doomed: Three reasons
Fintech startups appear when banks are not able to cope with their duties. It becomes obvious after the 2008 financial crisis. Western banks forced their customers to get mortgages at a frantic pace. They did not care about risks and resold their obligations on the secondary market. More and more dissatisfied customers of banking organizations started to use fintech companies instead.
The second reason why the digital economy is rising now is the massive spread of smartphones and the mobile broadband Internet. iPhone, the very first mass touch phone, was introduced to the public in 2007. Nowadays, every second person in the world has mobile phones that are nearly as powerful as personal computers. They can be used to make payments, take out loans, and arrange insurances. Traditional banks with physical branches turned into an anachronism.
The third reason is that fintech projects actively work with unbanked-clients (those people who have never been bank clients). There are over 2,5 billions of such people all over the world and many of them live in emerging economies.
Figures and facts
The stock market index growth rate of fintech companies at KBW NASDAQ Financial Technology (KFTX) are far ahead of the S&P 500 index, which includes American companies with the biggest capitalizations.

The value of annual fintech investments has increased 35 times over the past 10 years. It will reach 60 billion dollars by 2020.

The online lending and loan refinancing segment will grow to 1 trillion dollars by 2020. This financial forecast was provided by Morgan Stanley analysts.

By 2018, over 5 billion people own smartphones. By 2020, this number will reach 6 billion. Moreover, over 1,5 billion smartphones will be produced each year.
The most promising fintech startups
The CB Insight analytic company named 10 directions of financial technologies, which will grow the fastest in the coming years.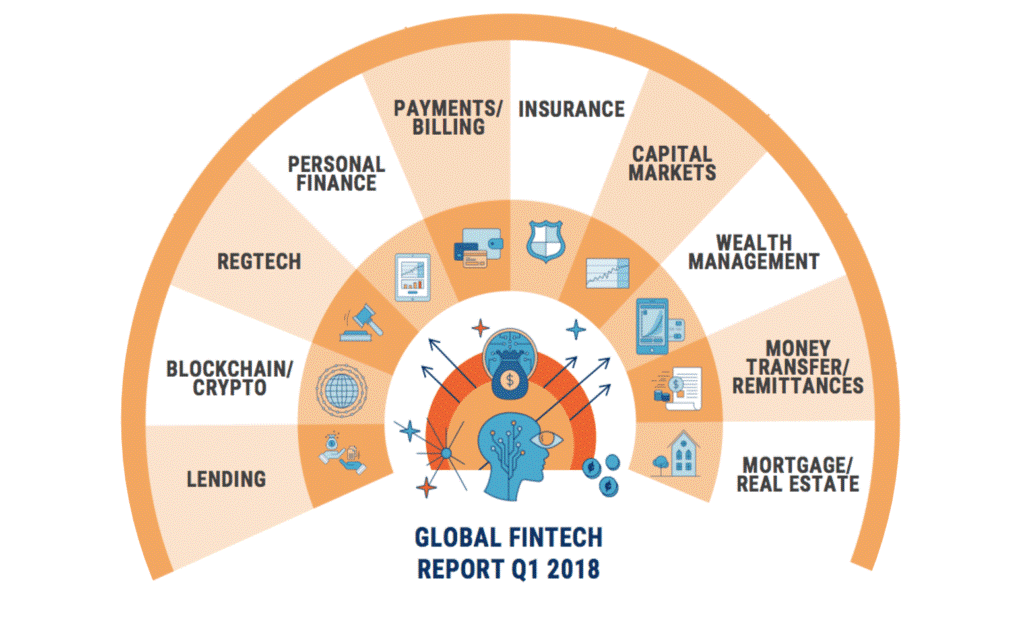 They will change our lives forever. The entire financial ecosystem will be built around the smartphone. Any services will become available in a few clicks. Finally, banks will either turn into IT companies or cease to exist.